You asked, we listened! We are pleased to now offer you a more flexible way to pay our fees.
Through QuickFee, you can now choose to make monthly installments of any term between 3 and 12 months, rather than making a one-time payment in full, via ACH direct debit. QuickFee will provide you with a monthly payment option, and you pay QuickFee in monthly installments.
This is another option of added flexibility that we are bringing to our clients to help them during this everchanging business climate. We are all about making the complex simple, and this is another tool to do just that.
Could You Benefit From Having More Time to Pay? We Made It Easy
So you now have a choice; you can pay our invoice on the due date or use QuickFee to spread your payment over several months. You can choose terms between 3, 6, 9, and 12 months. We produce the paperwork, and all you need to do is sign, scan, and return. It's as simple as it sounds.
By choosing to pay our fees in monthly installments, you can keep working capital in your business for other purposes, smooth your cash flow, and access an additional line of credit without any formal application or any need to see your bank.
If you are interested in the optional QuickFee monthly payment solution, please do not hesitate to contact our office and we can set this up on your behalf. Or, you can follow the instructions listed below to get started with this convenient option right away.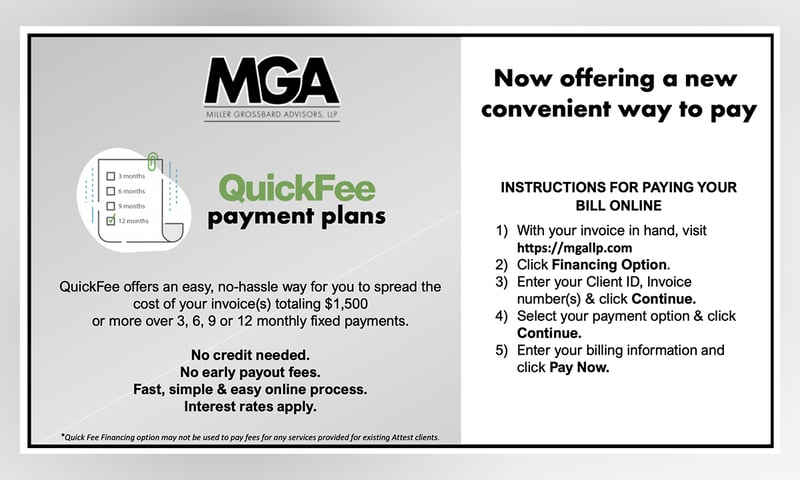 As always, we are here to make the complex simple.

July 13, 2020