At MGA, we are constantly looking for ways to make the complex simple — for both our team members and our clients. While we take many precautions in today's world of hackers and scammers to protect your sensitive data, we have been working hard to find and implement a "simpler" solution when it comes to emails and security.
We are excited to share that we have recently invested in Mimecast's Secure Messaging feature which will allow any of our team members to send you secure, confidential documents and information directly via email. Think documents containing your social security number or your credit card number, for example.
In this blog post, we have put together the basics of using Mimecast's Secure Messaging service—logging in, reading and replying to messages within the system, requesting a new password, and more.
The Ultimate Guide To Using Mimecast's Secure Messaging
If an MGA staff member sends you confidential information or documents containing confidential information, you will receive the following email from them (subject field will appear as "Miller Grossbard Advisors, LLP Secure Email").
If this is your first time receiving a Mimecast Secure Message, you will also be sent a second email with a temporary password.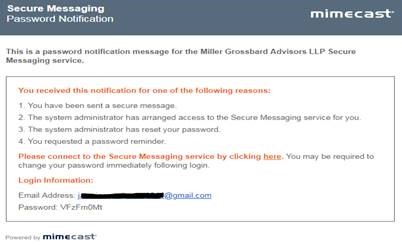 When you click to connect to the Secure Messaging service, you will be directed to the secure site where you will enter your email address and the temporary password. You will click "Log In" and will be prompted to reset your password.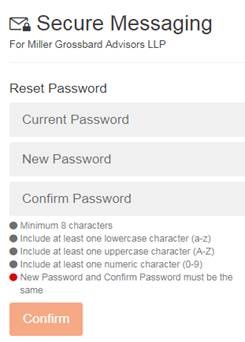 Once logged into the system, you will see an inbox of all the messages you have received via Mimecast's Secure Messaging system. You can read and reply to emails from within the Secure Messaging site.

If you have previously logged in and receive a new secure message but do not remember your password, you can click on the link to request a new password. You will be prompted to enter your email address, and a link will be emailed where you can then reset your password.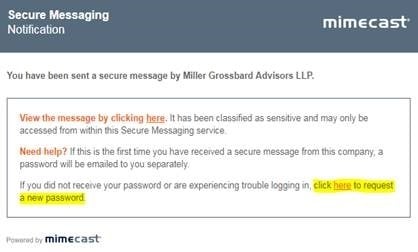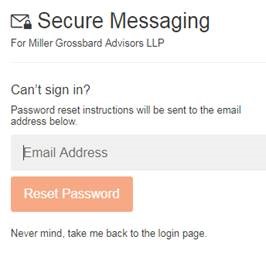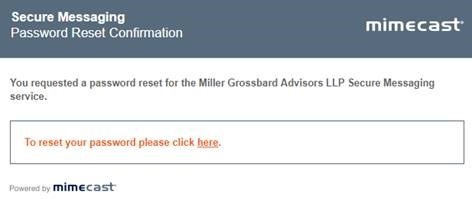 Additional Questions? Call Us
If you have any additional questions while using our secure messaging feature, please don't hesitate to reach out to your team at MGA for further assistance. We are here and happy to help.

You can reach us at 713-622-3960.

August 22, 2018