The new year has brought many strategic changes to MGA, along with exciting transitions in the leadership team. We recently announced the promotion to Partner of David Long, Helen Martell, Michael Miller, and Pauline Sullinger, effective January 1, 2023. We've been taking some time this year to sit down and talk with each of our new Partners, introducing them more in-depth and highlighting their unique skill sets.
With that being said, please take a few minutes to meet Michael Miller, transitioning from Director of Operations to Partner.
Michael, a son of the Founder and brother to an existing Partner, has been around MGA since its inception. Having a broad background in various businesses, he is MGA's swiss army knife — a tactical tool for many actions. Michael brings a unique and measured perspective to management and coordination amongst the departments and has always looked at things from a 'Partner's perspective' — placing the importance of the team first and recognizing the value of each person's contribution to the greater good of MGA.
When we asked Michael what MGA's future looks like, he shared, "The future of MGA looks really bright. The accounting space has been a slow and static industry for many years, and it's really coming into its stride right now, where new technology can help enhance the client experience if appropriately utilized. And that's our opportunity to take advantage of. We've got an incredible team, and new technology allows our people to spend more time with clients, more time delivering value, and more time making the complex simple. That's really where I see the industry going and growing. I think we will see a lot of consolidation, as people are scared of the changing world, but that's never been scary for us. We've always looked at that as an opportunity. I'm thrilled to have a wonderful group of partners and an incredible team of 60+ professionals who love what they do, and I think it's just the start."

Watch the short video above to get to know Michael a little better, like why he's chosen to continue his career at MGA for all these years and what makes MGA special to him. Or, read the short Q&A below to get to know Michael on a more personal level.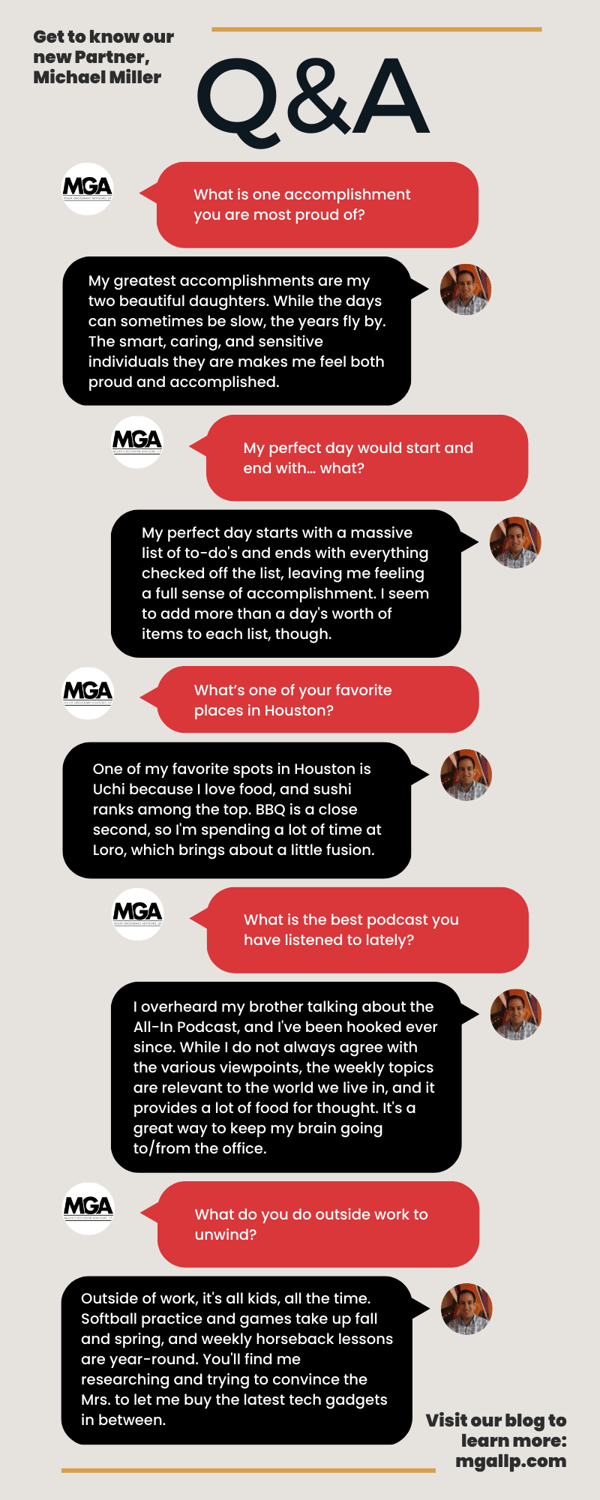 ---
Subscribe Now!
Enjoy reading our articles? Click here to receive instant notifications as we publish new blog posts, videos, webinars, white papers, and more. Or, if you'd prefer monthly updates, you can subscribe here.

February 22, 2023