We all know the importance of having great and happy employees on your team. When you have happy people who enjoy coming into work every day, you will have better company performance. That will then directly impact your customers' experience.
As millennials and GenZ begin to enter and take over the workforce, office trends are changing to meet their needs. Today, it's more than simply having a functional space to work. Employees are seeking smart technology, flexible office designs, and live-work-play environments, to name just a few.
We recently announced our upcoming office move to The Heights, where we will be officing in a trail-oriented mixed-use development. We are excited to offer our exceptional team members this new workspace and are actively taking their input on what they would like to see in the new office. Not only will this help retain our great talent, but it will also help us grow our excellent team throughout the years.
Here are some office trends that we are noticing and how we are responding to them as we design our new space.
Office Trends That Attract Better Talent
One office trend that we do not see going away anytime soon is the live-work-play environment. Work/life balance is a top priority for younger generations, and mixed-use developments offer employees much more than a stuffy corporate office located in a high-rise. Delicious drinking and dining experiences are right outside your office doors. Bike trails and innovative outdoor spaces are just steps away. Younger generations are seeking environments like this, ones that bring together the best of both worlds.
Mixed-use developments are popping up all around Houston thanks to employers' hunt for talent. Click here to read more.
Another workplace trend that we are focusing on is open, creative office designs. We are looking to add bold, bright pops of color along with local artwork to keep the space visually appealing. We are also considering the lighting, making sure there's plenty of it to create a positive atmosphere. We are using alternative materials for our walls rather than sheetrock to create an open and collaborative feel and using glass walls in our designs that double as whiteboard surfaces.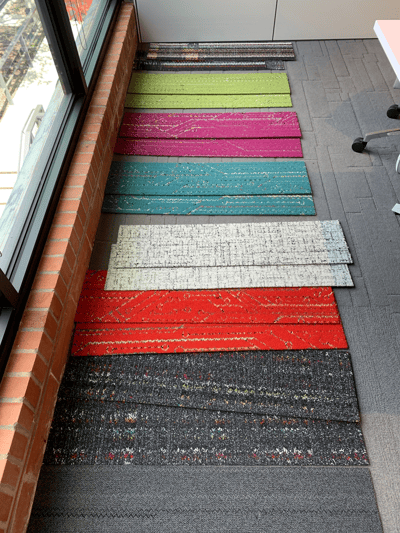 Here are a few colorful carpet samples for our new huddle rooms. We believe that being surrounded by bright pops of color can have a positive effect on team morale.
Your Workspace Is an Extension of Your Culture
We recently shared some tips on how to build a company culture where people thrive. We believe that your physical workspace is an extension of your culture and should reflect it accordingly. Comfortable and visually pleasing offices can play a big part in your employees' experience, and therefore, can help you retain and attract top talent.

You also don't have to be moving offices to consider these trends. We encourage you to make use of the space you currently have. Can you bring in color? What about smart technology? Is there an outdoor space you can revamp to let your employees get some fresh air in a beautiful area? Or perhaps you could even bring the outdoors in.

We want to share our hands-on experience in hopes that it can give you some ideas to enhance your physical workplace too.

October 16, 2019