New year, new resolutions. At MGA, we are still pushing to make the complex simple every single day. One step in that direction is the launch of our new and improved MGA client portal. This client portal will help us communicate effectively with you or your designees and will provide some additional features that were requested over the years.
Several enhancements include the following:
Drag and drop functionality. Sending us documents? Just drag them from your desktop into your portal. No more browsing for files!
Interactive checklists. Whether we're preparing an individual or business return, there is an annual list of items needed to complete your work. Our new portal now integrates these lists so you can see what is being requested, where each request stands, and what is left to complete your list. Something new in your life? No problem. Add it to the list and upload the applicable document.
Enhanced organization with single sign-on. Do you have multiple entities? No more hassles with multiple logins. With a single username and password, you will gain access to one site that lists each of your specific entities and be able to track files to/from and checklists for each specific entity.
In this blog, we have put together some quick tips for using our new portal. You may click here to access the portal, or you may visit our website where we always have a link to the client portal in the top right-hand corner.
If you're a visual person, we've got you covered. Watch the video below, where we do a quick tutorial of our client portal in under five minutes.
New Client Portal Quick Tips
When you log in, you will be greeted with a new, clean user interface to interact with your team at MGA!
Top right (3 dots). Here you can select to change your password if you would like.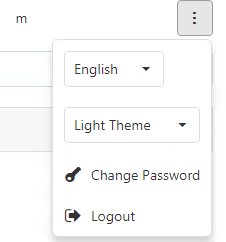 Top bar (list of portals). Near the top of the page, you will see a drop-down listing the portals you have access to, which include individual, fiduciary, and businesses.

Folders / lists views. Below the list of portals is your main navigation bar. Here you will see buttons for folders and lists.

Folders will take you to the typical portal folder structure where you can see tax returns and other folders (i.e. Organizers, QuickBooks, To MGA

—

the folder you will use to send us data, and a folder with your name).
To MGA folder — This is where you drop various files you want to send to MGA.
Your Name folder — This is where we can share files that only you will have access to (for example, if you are a business owner, your controller would not have access to 'Your Name' folder). Other users with access to the portal will not be able to see this folder.
PRO-TIP — A folder with a black envelope is a visual indication of a folder that contains a file.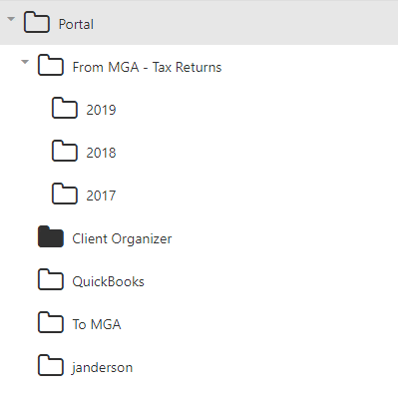 Lists is our favorite new feature of the portal. Here is where you will see the list of outstanding documents necessary to complete a specific task.
The left hand side will show you the applicable list (for example, 2018 Tax — 1040 Individual).
The right hand side will list the items being requested.
Use the upload button in the 'Status' column to browse for a file to upload or drag a file to it's respective list item and it will prompt you to complete.
If you upload a file that contains multiple items, use the "Addressed Items' box to s

elect any additional documents that are included with this upload' button to check them off the list!
Have a new item that is not listed? Use the '+ Add List Item' button to grow your list as necessary.
Is a list item no longer applicable or addressed elsewhere? Use the 'Pencil' button to the right of each list item to appropriately designate by updating the 'Status' dropdown.
The list is dynamic and fits your unique client situation. Reminders will be sent to help you diligently complete your list and have a great client experience.

Additional Questions? Call Us
We strive to provide solutions that are both interactive and intuitive, but as always, we're right here to help if you have any questions along the way. You can reach us at 713-622-3960.

Additionally, if you have any suggestions or enhancement requests, please let us know!

March 4, 2019